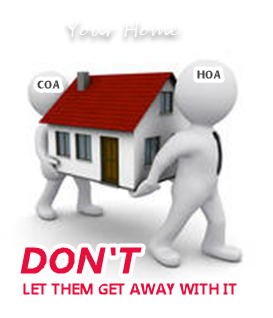 Gotta ask:
Have you ever heard anything good about a deed restricted community commonly referred to as a Home Owners Association or a Condominium Owners Association?
We buy our homes in these deed restricted communities in "Good Faith". We understand there are rules we must live by commonly referred to as Association By-Laws and a Declaration of Covenants and Restrictions and we commonly accept those rules.
Why then is the home/property owner the only one forced to respect and obey these rules and all others allowed to disobey them without recourse?
This then begs the question, "Why do our Florida legislators continue to allow criminal deed restricted owner associations to swindle Florida residents out of their homes and life savings"? Incidentally, a very large percentage of these owners are "FLORIDA SENIORS".
An old saying suggests the answers may be obvious if you simply "follow the money". I know. We hate to think this is really happening. What else are we to believe. If you're really interested in learning just how bad it is you need to read this new "Grand Jury Report regarding the DBPR in Florida ( Division of Business and Professional Regulation ).

What are your options when criminal developers, an idiotic criminal Board Of Directors or a corrupt property management company violates Florida law as it pertains to HOAs and POAs? If you attempt to file a complaint with the State of Florida you will be politely informed the only remedy available to you is seek the assistance of an attorney and pursue the matter in civil court. AT YOUR EXPENSE......
This is unacceptable. Florida homeowners, especially seniors and veterans, deserve better.
You may not be concerned with HOA issues at the moment. Rest assured, however, this crusade is as much about you as it is every resident of the State of Florida. It will only take a couple of minutes of your time and it is painless.

JOIN OUR CRUSADE AND WE WILL CARRY THE BANNER FOR YOU!!!
---